INFORMATION FOR OFFICIALS
Officials' Webinars
(May 19, 2020)
For those interested in getting some information on the new rules and the changes from IAAF to World Athletics, and perhaps to look at other disciplines than the one you are already in, take a chance to register for one of the webinars being hosted by various people from the National Official's Committee.
Information regarding the topics of the webinars is found at this link. The website for registering is:
Date Set for Official's Breakfast
(Nov. 5, 2019)
Club officials should mark their calendars now for the Official's Breakfast. This meeting will take place in one of the Meeting Rooms at TCC, starting at 9:00 am on Sunday, Jan. 19, 2020.
If you are a registered BC Athletics official or plan to become one, please attend to hear what the club is planning this year, and to put your name in for various meets that we will support in 2020.
We are looking for folks to become officials with our club. Anyone who is interested in becoming an official please contact
We always need officials. Come out and volunteer, and make new friends!!
Becoming an Offical and Upgrading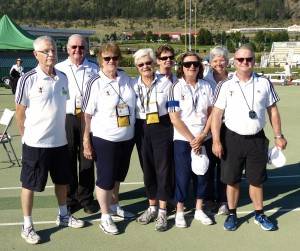 Are you interested in becoming an official and/or upgrading your credentials? Then this is the place for you to get the required information.
Becoming an Official
Any volunteer who is interested in becoming an official is eligible to do so. Often, volunteers who are helping at an event are approached by an official to inquire about interest. Other times, someone may be interested in officiating and may want to approach an official to get further information. Either way is just as good as the other.
In Kamloops,  Alwilda Van Ryswyk, Cheryl Elke and Wayne Elke are members of the Board for BC Athletics Officials and are the coordinators for Zones 1 and 2. Zones 1 and 2 encompasses three major areas: Central – Kelowna – Vernon – Penticton; North – Kamloops – Shuswap; South – Trail – Kaslo. They are the perfect people to contact regarding becoming an official and often organize the clinics required by beginning and upgrading officials.
Upgrading your Credentials
The Officials section of the BC Athletics website has a great deal of information for officials. Please follow the link to find out the process for upgrading credentials, along with any other information you may require about Officiating with BC Athletics.
Manuals Of Interest To Officials